Providing full service mobile pet grooming for your dog or cat to the Portland, Oregon metropolitan area including Lake Oswego, West Linn, Oregon City, Gladstone, Milwaukie, Clackamas, Happy Valley, and Tigard.
I have been providing professional grooming for dogs and cats since 1995. Your pet will receive exclusive one on one personal and caring attention.  Your pet will be groomed by me in my state of the art van that is fully self contained and climate controlled.  I do not need any electrical or water hook up.   Being familiar with your pet's specific needs is very important to me.  Since I am a one person owner- operated business I can offer you, and your pet the consistency of having the same groomer at each appointment.  I am a companion animal hygienist, fully insured, and veterinarian referred.
Inclusive in the grooming service:
Pedicure
Complete ear cleaning.  Ear hair removed if applicable.
Comb out (de-matting and de-shedding extra fee.)
Warm water massaging bath with all natural shampoo.
Anal glands expressed by request only.  (Small dogs only.)
Coat Conditioner
Fluff dried by hand-no cage drying.
Foot, pad, and sanitary trim.
Hair styled to your liking, or breed standard. (If applicable.)
Perfume and Bandana. Bows are available upon request.
Lots of love and attention!
Call me at (503) 557-2254 and you'll see my van soon!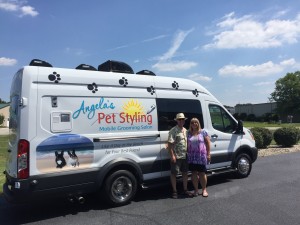 This is the adorable Pippa who live with her family in Lake Oswego, OR.  This is the third dog for these very long time clients.
Cutie patootie Roxy going for a boat ride with her parents on the Willamette River.  Fun in the sun!